What is the Benefits Selling on Shopee?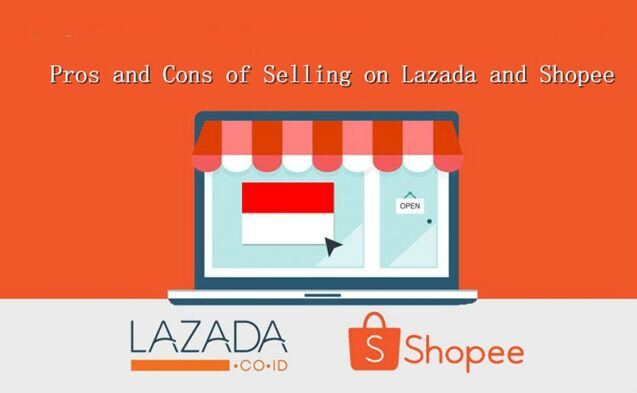 The Pros and Cons of Selling on Lazada and Shopee
Online Marketplaces play an important role these days for buyers and shoppers alike. Lazada and Shopee are the two top and most powerful ecommerce marketplaces in southeast Asia. Both of these online stores can help sellers gain exposure for their products and these marketplaces also get the benefit of expanded variety of products without introducing any new inventory as these online stores act as a bridge between sellers and buyers.
While looking closely in the matter, we do conclude that these online marketplaces do have their benefits and can boom your business as a seller. But still we need to consider the pros and cons of selling on both Lazada and Shoppe Malaysia.
Depending on the type of products you want to sell, marketplace commissions fee structure, shipping costs and times and so on. You will have to re evaluate both these marketplaces so that you can make a well informed decision so as to sell your products on Lazada or Shopee.
In this article, we want to help you decide which online platform to choose to sell your products online in Malaysia.
Reviews of Lazada
Lazada is the largest E-commerce website in Malaysia with over 27,000 registered sellers as of writing this article. Apart from the trust of sellers on Lazada Malaysia, buyers also seems to take keen interest in buying things from Lazada as its getting over 52 million visitors a month which is huge to market your products to.
If you are located in South East Asia and looking to showcase and sell your products online, then Lazada could be a great option though it comes with a few cons too like no product exclusivity. (Products get replicated too quickly). You will have to pay a payment and commission fee on each sale. Another drawback is that as Lazada is that around 81% of it is acquired by Alibaba, so there is a high competition in China Imported products.
Though it also comes with a few benefits like there is a Lazada University for Sellers to educate sellers on board how to set up their shops and how to boost their sales with the help of Lazada. The backend administration panel for sellers is also easy to use and they send weekly reports of your shop by mail so that you can track and improve your store performance.
Reviews of Shopee
Shopee is another emerging and popular Ecommerce business in Malaysia. The main attraction for sellers of Shopee is that it is commission free unlike Lazada where you pay a percentage of every sale.
Apart from that it also provides free shipping for the first 5kg. A big sigh of relief for a lot of new sellers. Shopee seems to be a really good option at first in comparison to Lazada but if you are an honest seller you might have to struggle a lot to build trust in the eyes of your customer as Shopee doesn't seem serious enough to weed out bad sellers.
Also, you might not get the exposure Lazada gives, but still it is a good platform to showcase your products to the maximum customers as it offers uploading your products with the help of a mobile app.
The Pros of selling on Lazada and Shopee
Though all of the Online Marketplaces even Amazon or Ebay do comes with some demerits, we do have some pros of selling on these Top Marketplaces like LAZADA and Shopee.
★ Increase Sales From a High Traffic Channel
The main benefit of selling on Lazada or Shopee is the scale of their online presence. These marketplaces have created a name and trust in people. As mentioned above only Lazada Malaysia drives around 52 million visitors monthly. A really huge audience to market your products online. You can never get these many eyeballs that easily if you open your own store. So you get the ready made audience when you choose to sell on any of these marketplaces.
★ Acquire New Customers
The customers visiting Lazada or Shopee would not search for your specific store the first time. But they might be searching for the product you have listed in your store. Once you get a customer with the help of these giant online stores you can win the customer as a repeat buyer by giving them excellent service and fulfillment.
★ Shipping and Logistics
Lazada and Shopee both have strong online presence as top ecommerce stores in Malaysia and they have strong and poweful Logistics and shipping terms so you get the benefit of Fast and reliable shipping with the help of these marketplaces.
The Cons of Selling on Lazada and Shopee
★ Marketplace Fee
Setting up a shop on Lazada or Shopee or both can potentially boost and supercharge your online sales but it does adds a bit of limitations in the form of Marketplace commission fee. You must be well versed and must have a good sense on your profit margin limits and the fees you might be paying for the help these marketplaces are doing to sell your products.
Though Shopee is not taking commission on their sales for now, but they plan to add a fee very soon as not taking the fee is not a sustainable idea for them to grow.
★ Limited Control
Marketplaces don't exist to help your business only but they help to do business and grow themselves too. So they make sure that there customer's focus is not on sellers but on the products itself.
This might be a really ground breaking for a lot of sellers as they might restrict a lot of things to make sure there is no direct communication possible between the buyer and seller.
Apart from that, you have a limited control on how your store looks on these marketplaces and which features one like to be added or removed.
Final Verdict-Lazada vs Shopee
As you start considering the Pros and Cons of using a marketplace for your business, it's also important to consider which marketplace of the two Lazada or Shopee you would choose for your business.
The tempting answer seems to be " Join both of them". But as described, both of these marketplaces have their own processes and limitations. So it's on you to decide whether you can join only Lazada or Shopee or both.
Also, keep in mind that while selling solely on your own E-commerce store doesn't mean you cannot sell your products on any of these marketplaces. You can sell to reap the benefits of both. The main thing is the trust of customers. Just take a wise decision and choose one and see how it goes.
Does Lazada offer drop shipping?
Lazada doesn't offer dropshipping at the moment, its just a B2C platform. Lazada has removed the requirement of only SSM registered companies to sell on their marketplace. Now anyone can sell online on Lazada even if you don't own a registered company. You only need a seller's training before you start selling.
Does the Shopee platform support drop shipping?
Shopee is just a B2C online marketplace to connect sellers and buyers to list their products for sale. Shopee doesn't support drop shipping method for fulfilling orders. You can list your products on Shopee and find suppliers like Chinabrands to dropship your products to your customers.
Is there any eCommerce solution which can integrate with LAZADA and Shopee?
Yes, you can use Chinabrands to integrate your E-commerce solution with its api and integrate it with LAZADA and Shopee to sell your products online with the help of dropshipping fulfillment method. (Register Today for Free)
Chinabrands is a leading and reliable dropshipper in this region and it provides robust customer service and extensive product offering.
Morever you can list your products on Lazada and Shopee and dropship them through Chinabrands with the help of their easy to use API integration.
Original Article from : https://www.chinabrands.com/dropshipping/article-the-pros-and-cons-of-selling-on-lazada-and-shopee-14824.html
How do you sell successfully on Shopee?